Look Black at It: Last Week #ForTheCulture
9:00 AM
Busting out from another totally unintentional hibernation from blogging, I am excited to be back with new content for A Nu Creature. I have been doing some writing here and there on the Internets, mostly about culture and black hair, and thought "I want to write more, about more!" And what better place to do that than my own site. I want to continue to talk fashion, faith & fros - but add in important culture moments that are on our minds (and social media hashtags). Every Monday (fingers crossed), I will be posting a roundup of my top black culture moments that you may have missed from the week before. With all of the horrible news going on, there can never be enough black excellence celebrations. So here we go...the very first edition of "Look Black At It". Enjoy!

1. Girls Trip breaks the box office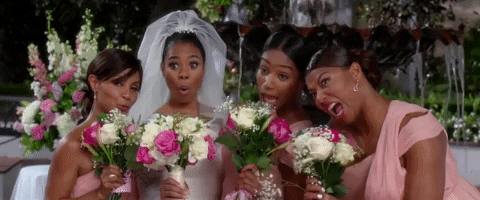 Unless you have been doing a social media detox for the last few weeks, you know that Girls Trip has been all up and through everyone's reviews, shout outs and think pieces. Malcolm D. Lee's latest comedy stars some of our lifelong faves: Jada Pinkett Smith and Queen Latifah - alongside some newer faces, Regina Hall (
Scary Movie franchise
) and Tiffany Haddish (
The Carmichael Show
). The R-rated comedy had the highest grossing opening weekend of any 2017 live-action comedy. The numbers after its second weekend in theatres report that the film is still going strong, raking in another $20 million - solidifying its spot as this year's breakout comedy. I have my own thoughts and reviews of the movie (planning to write about them at some point, so stay tuned), but endless claps for this all-girl, all-black leading cast breaking records.
2. Joanne the Scammer lies her way on to our television screens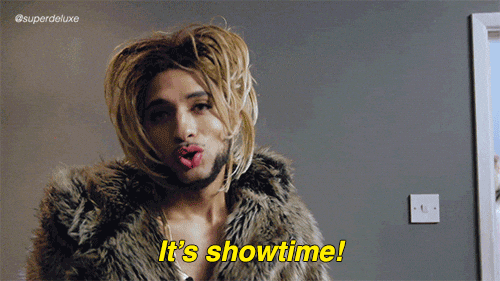 GIPHY
Honestly. Truly. Our favorite messy b**** who lives from drama is getting her own show! Branden Miller (the brains behind Joanne) announced the news last week on Janet Mock's new podcast, "
Never Before
". Miller quickly mentioned that "someone from Netflix" was currently writing the show, with the series focusing on fleshing out some of the scams we have seen on Joanne's Instagram. The general assumption was that the series would be on Netflix. However, other sources have since suggested that a writer from "Master of None" is working on the series - with no set buyers confirmed yet. While it doesn't sound like this will show up on our queue anytime soon, just the thought of watching Ms Prada during our next binge watch is enough to get excited. iCONic.
3. "The Talk" gets real and makes all of our eyes sweat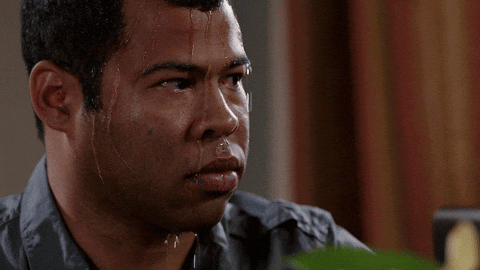 GIPHY
Procter & Gamble relaunched their "My Black is Beautiful" initiative this week with a 2-minute video called "

The Talk

". The company's website explains the 2007 initiative as a "community celebrating the diverse collective beauty of black women", created by "a group of visionary black women" who worked at

P&G.

The ad campaign address just a few of the very tough conversations

that black

parents have to have with their black children, including racial slurs, discrimination and police brutality. The video tackles a lot in a short amount of

time

and does bring to light the heartbreaking reality of having to warn black children of injustice from a very young age. MBIB added the hashtag #TalkAboutBias to this campaign. I hope that non-black viewers take the content to heart and working on stopping the bias with their children while we are talking about it with ours.
4. Diddy shouts out black women...and boy did the white whine flow
GIPHY
Thursday afternoon, Diddy posted this simple tweet: "Shout out to black women, just because..." The thread instantly turned #AllWomenDeserveShoutOuts, with many users asking why Diddy had to include race. In his tweet. On his timeline. About women in his race. I am not sure why black people celebrating each other is so threatening but apparently, seven words of celebration can spark three days and counting of backlash. Diddy has made no comment - no further explanation needed. And we can't forget when he cropped those girls out of his black squad Met Gala picture before posting - I don't know what Diddy is up to professionally these days, but we see you, Puff.
5. Janelle Monae & Zoe Kravitz lend those flawless faces to Tiffany & Co.
GIPHY
These two women are beyond gorgeous on their own. But put them together as two of the newest faces of a classic luxury brand, and we get sheer magic. Tiffany & Co. revealed their first campaign since the start of their new head of design, and these two lovelies were amongst the six celebrities featured. The new campaign is called "There's Only One", and focuses on the "singular style, personal strength, and imaginative vision". Spot on in choosing these two very unique, innovative queens to embody that focus. Do you guys remember when we heard that those Tiffany & Co chain necklaces used to be used for slave collars? Oh, the joys of internet rabbit holes.
6. You have something of Auntie Maxine's, and she's here to take it back
GIPHY
Last week was also the week that we gained the mantra for the rest of our lives, especially when hit with the dreaded mansplain. "Reclaiming my time" will forever be in the vocabularies of anyone smart enough to know just how magical Congresswoman Maxine Waters really is. During the White House Financial Services Committee hearing, Queen Maxine asked Nacho Cheese Doritos' treasury secretary about his lack of "do anything"-ness in responding to requests concerning financial ties to Russia. He tried to let the clock run out with some lazy compliments and mediocre mumbles, and Auntie Maxine said "boy bye". We all learned an important lesson about taking back what belongs to us. Replace "time" with "life/happiness/passion/purpose/joy/fries" - anything. We are reclaiming it all.
7. We said #NoConfederate
GIPHY
During the airing of last night's newest Game of Throne's epi, many took to Twitter to support the show while expressing their thoughts on the newest show from its creators. A few weeks ago, we learned that the duo behind GoT got the green light for their new show - a "slave drama" about an America where the Confederacy won. In response to the protest hashtag urging HBO to pull the series, the network released a comment. They addressed the concern, but remained supportive of the writers' ability to "approach the subject with care and sensitivity". Slavery. Careful and sensitive slave alternate reality...not convinced, HBO.
By the end of GoT, #noconfederate had reached number one on Twitter's trending topics. Doesn't seem like the network is ready to ditch the idea, but the people have spoken.